Grenache 30%
Syrah 30%
Mourvedre 40%
This rosé is co-fermented at crush to meld the best characteristics of each grape varietal. Syrah (30%) provides the rich garnet color, while the aromas and flavors of dried apricot, cherry, plum, and white pepper, common in Mourvedre (40%), are accentuated by the bright acidity of Grenache (30%). The result is a rosé with a balance of stone fruits, spice, crispness, and creamy mouth feel. Enjoy this deep, Autumn Rosé with robust cheeses, wild game, and your Thanksgiving Turkey.
alc 13.9% by vol
Price: $22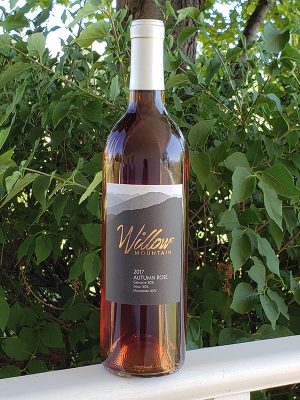 Grenache 34%
Syrah 36%
Mourvedre 30%
2017 American Red Wine
Grenache (34%), Syrah (36%), and Mourvedre (30%) combine to produce this traditional Rhone-style blend. It delivers aromas of cherry, anise, oak, and white pepper. These flavors release slowly and linger softly on the palate. Enjoy on its own or with a variety of dishes. This wine is a fine complement to dry-rubbed ribs and eggplant parmesan yet is subtle enough to accompany gourmet macaroni and cheese.
alc 15% by vol
Price: $28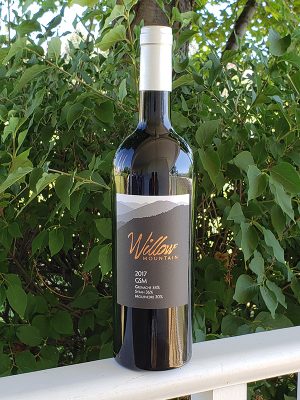 2017 American Red Wine
Willow Mountain Winery presents this 2017 100% Sangiovese, an Italian grape that derives its name from the Latin Sanguis Jovis, "The Blood of Jove." The 2017 vintage year yielded more concentrated flavors than typically found in Sangiovese, producing a savory complexity of currants, blackberry, fennel, black olives, and leather, resulting in a full, smooth mouthfeel. Enjoy this wine on its own, or pair it with your favorite grilled meats or a pasta carbonara.
Price: $32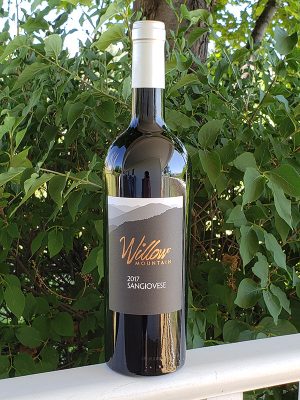 Sauvignon Blanc / Semillon Blend
White Sands takes its name from the little pond where the grandchildren learned to fish, swim, and paddle a canoe. So take this bright white wine on the next trip to your "White Sands," or enjoy it any afternoon and let it take you there with each sip. 
This wine is a blend of Sauvignon Blanc (65%) and Semillon (35%), co-fermented at crush to marry the characteristics. Aromas and flavors of pineapple, nectarine, lychee, and white peach combine with bright acidity and a slate minerality to produce a balanced, fresh white wine. 
Enjoy!
alc 13.6% by vol
Price: $24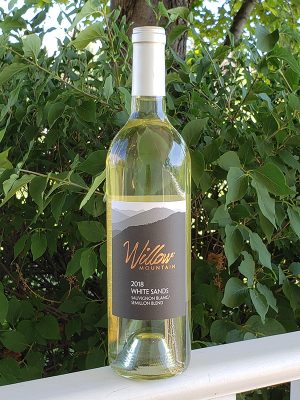 2018 AMERICAN RED WINE
Willow Mountain Vineyard/Winery, located at the foothills of the Sapphire Mountains, across the valley from the Bitterroot range in western Montana, offers this single varietal Barbera.
This Italian grape varietal was crafted from crush to barrel to bottle in our Montana winery. This Barbera is true to its varietal in its' rich aromas of cocoa, anise, and cherry and pairs well with Italian food, creamy sauces, and even chocolate desserts. In addition, you'll enjoy the hints of soft cocoa and a silky finish, whether pairing with food or drinking on its' own.
Cheers!
alc 15.8% by vol
Price: $26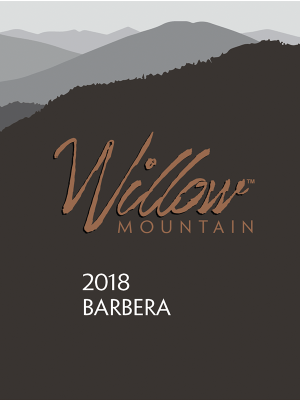 2019 Montana Grown Red Wine nestled between western Montana's Bitterroot and Sapphire Mountains, Willow Mountain Vineyard/Winery presents this Montana-grown premium wine. The volcanic and granite soil composition at 3601 feet of elevation, northwest evening breeze, and water supplied by mountain snowmelt, all contribute to the personality of this Marquette.
A descendant of Pinot Noir and true to the Marquette varietal, this wine displays hints of smoke, cherry, currant, and warm spices, with soft tannins and a light, fruity finish. Light in color, light in tannins, long on personality. Montana-grown, Montana-made.
Enjoy!
alc 13.1% by vol
Price: $27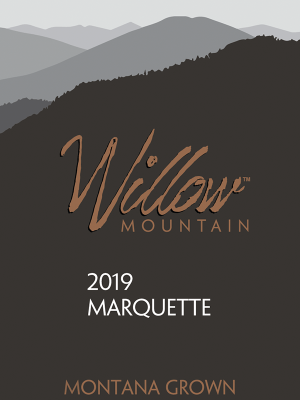 2019 Montana Vineyard Red Blend
Willow Mountain Vineyard/Winery, located in western Montana between the Bitterroot and Sapphire ranges, offers this Montana-grown premium wine. An elevation of 3601 feet, volcanic and granite soils, northwest evening breezes, and mountain snowmelt all contribute to the unique character of this Montana Vineyard Red Blend.
A vineyard harvest of Marechal Foch (40%), Marquette (34%), and Petite Pearl (26%), our Montana Vineyard Red Blend displays hints of blackberry, black pepper, paprika. This blend is light in tannins of cedar, rich in garnet color, and has a soft creamy finish. Montana-grown, Montana-made.
Enjoy!
Price: $27