Grenache 30%
Syrah 30%
Mourvedre 40%
This rosé is co-fermented at crush to meld the best characteristics of each grape varietal. Syrah (30%), provides the rich garnet color, while the aromas and flavors of dried apricot, cherry, plum and white pepper, common in Mourvedre (40%), are accentuated by the bright acidity of the Grenache (30%). The result is a rosé with a balance of stone fruits, spice, crispness and creamy mouth feel. Enjoy this deep, Autumn Rosé with robust cheeses, wild game, and your Thanksgiving Turkey.
alc 13.9% by vol
Price: $22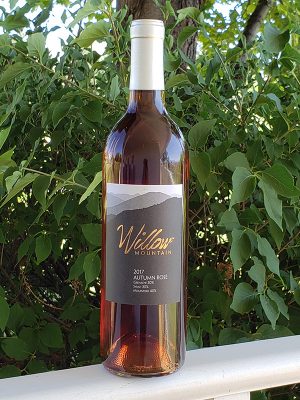 Grenache 34%
Syrah 36%
Mourvedre 30%
2017 American Red Wine
This traditional Rhone-style blend of Grenache (34%), Syrah (36%), and Mourvedre (30%) reveals aromas of cherry, anise, oak, and white pepper. These flavors release slowly and linger softly on the palate. Enjoy on it's own or with a variety of dishes. A fine compliment to dry-rubbed ribs, eggplant parmesan, and yet subtle enough to accompany gourmet macaroni and cheese.
alc 15% by vol
Price: $28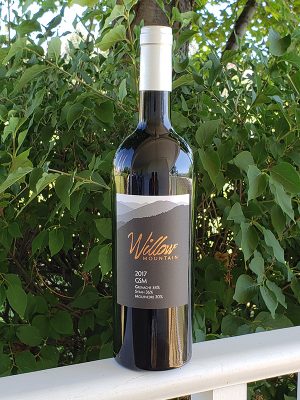 2017 American Red Wine
Willow Mountain Winery presents this 2017 100% Sangiovese, an Italian grape that derives its name from the Latin sanguis Jovis, "The Blood of Jove." The 2017 vintage year yielded more concentrated flavors than typically found in Sangiovese, producing a savory complexity of currants, blackberry, fennel, black olives and leather, resulting in a full, smooth mouth feel. Enjoy this wine on its own, or pair with your favorite grilled meats or a pasta carbonara.
Price: $32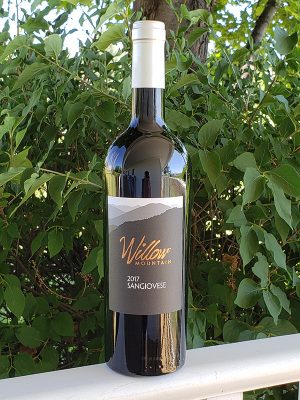 Sauvignon Blanc / Semillon Blend
White Sands takes it's name from the little pond where all of the grandchildren learned to fish, swim, and paddle a canoe. Take this bright white wine on the next trip to your "White Sands", or enjoy it any afternoon and let it take you there with each sip. This wine is a blend of Sauvignon Blanc (65%) and Semillon (35%), co-fermented at crush to marry the characteristics of each. Aromas and flavors of pineapple, nectarine, lychee and white peach are followed by a bright acidity and a slate minerality to produce a balanced, fresh, white wine. Enjoy!
alc 13.6% by vol
Price: $24